Icelandic Horse Connection
Stallion ShowCase
Arnarbaeli, USA
Aegir Fra Klakahross

Located in Lester Prairie, Minnesota
sigrid@hutchtel.net
(imported in utero)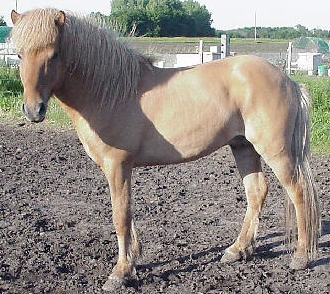 Summer 2000

Dam: Dath fra Hreithurborg (evaluated mare)
Sire: Hrannar fra Kyrholti(first prize stallion)
Aegir is 5 gaited, handsome, dun stallion out of the evaluated mare Dath and Hrannar 1270 fra Kyrholti, a 5 gaited (first prize stallion) son of Ofeigur 882. Some of Hrannar's evaluations include 9's on Tolt, Trot, and 8.5 for his Flying Pace.

This year Aegir will be worked towards finishing his training. He will be evaluated at the 1st American Evaluations taking place in Oklahoma in November of this year.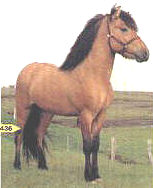 Sire: Hrannar 1270



Dam: Dath with Aegir
at Klakahorss Training Facility.


Aegir ~ This handsome stallion is registered in the USA. We allow horses to mature at their own pace, and do not believe in training before they are ready. We like our horses to rest a season after being started under saddle.
This year, our breeding fee is $700. US. The fee will include mare care through the first heat cycle. We only breed to Horses currently registered with the USIHC. We require a current (with in 30 days) health certificate. Current on all vaccinations, worming, and free of vaginal infections.
What impressed me about this horse is the wonderful temperament along with talent to be developed. He has been out riding with mares, a gentleman. We personally feel temperament is as important as quality in an Icelandic Horse especially a stallion.



---



If you would like to have your
Icelandic Horse Stallion
featured on this website,
please let us know.

iceryder@cableone.net