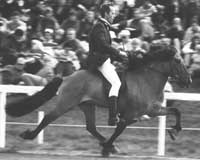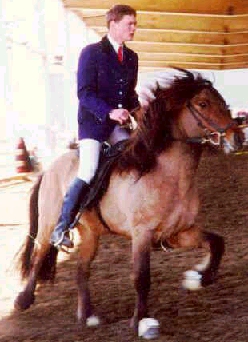 Standing at: Northstar Farm
Kolskeggur fra Staerribae, USIHC Reg. No. 89100794. Kolskeggur is an extremely talented 5-gaited yellow dun. Son Ofeigur, 882 fra Flugumyri. Prior to coming to the US, Kolskeggur made his debut in 1994, ranking 2nd in the 5 year old stallion class at Reykjavik's Spring Breeding Competition, Landsmot. Kolskeggur went on to win the Gaedingakeppin in Keflavik (competition with all horses, not just breeding horses) and earned the right to participate in the Fjordungsmot at Hella, 1996. There he improved his personal overall score to 8.36. After his purchase and importation to the U.S., Kolskeggur has continued to prove himself as a dominant competition horse by consistently winning at the Northeast Gaited horse shows. Currently Kolskeggur is the sole Icelandic Registered First Class Stallion residing in Ohio.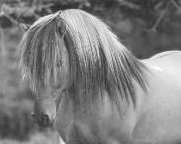 Contact Lanny Carroll for further information.